SASSO Fully Automated Unmanned Weighbridge
SASSO provides weighbridge owners with the flexibility of running an unmanned weighbridge system. Ideal for 24 hour operations, keep your weighbridge running smoothly without a dedicated weighbridge operator, lowering operational costs and extending the hours of availability. The console guides the driver through the weighing process via a series of on-screen prompts, collecting and storing vehicle and weight data, then transferring it directly into your weighbridge operator system.
As drivers are not required to physically leave their vehicle during the weighing process, unmanned weighbridge systems are an ideal tool to improve business efficiency, driver turnaround time and health as safety on site.
The Unmanned Weighbridge System is a standalone system which allows 24 hours 7 days a week weighing operations without the need of operator. Due to the system's easy interface it is totally operated by the truck driver. Moreover Imagic Solution custom designs the system to suit the specific requirements of your operations..
Imagic Solution Provide Two Way Weighment System on weighbridge means vehicle enter both side for weighment. also we can pre fix weighbridge for weighment if they try another weighbridge system cannot allow to weighment.
Automated Weighbridge System – Imagic Software is a intelligent solution that turns your weighbridge to a simple unattended terminal, eliminating the need of weighbridge operator. The system can be customized with many add-ons like camera plate recognition, surveillance cameras, traffic barriers, traffic lights, etc.
SASSO STANDARD STEEL BASIC WEIGHBRIDGE (PIT MOUNTED OR ABOVE THE GROUND)
OPTINAL WITH DIGITAL OR ANALOG LOACELLS
Designed with demanding industrial environments in mind, SASSO TRUCK SCALES weigh vehicles dependably and accurately over a long scale life.
Fully assembled, 100% welded construction
extra strength and no weak spots
Industry leading robust Weigh Bar® weight sensors
quick accurate weigh readings
Cost-effective ownership
lasts longer than competitor truck scales and less downtime
Modular boltless sections
simple hook design allows quick and easy installation and extension
Performance guaranteed
NIST, NTEP and ISO tested before leaving our factory 2-5 years warranty makes the cost of ownership even lower
Local service and support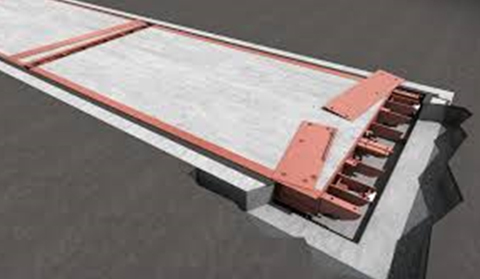 SASSO CONCRETE WEIGHBRIDGE-PIT MOUNTED
OPTIONAL DIGITAL OR ANALOG LOADCELLS
Overview
Truck scale available in a wide variety of capacities and sizes
With a wide variety of capacities and sizes, up to 135 tons, this concrete vehicle scale can handle a wide range of trucks and configurations. The concrete truck scale is used by many aggregate, logging and recycling applications, as well as in high traffic, over-the-road weighing installations.
Designed to withstand extreme environments and constant use
This truck scale has a composite design – only the top half of the deck is poured, allowing the concrete to stay in compression and resist cracking. Tension forces are handled by the high-strength steel structure below the concrete.
Concrete decks typically provide a less slippery surface when wet and don't have the corrosion problems associated with steel truck scales.